Self-Love & Collateral Damage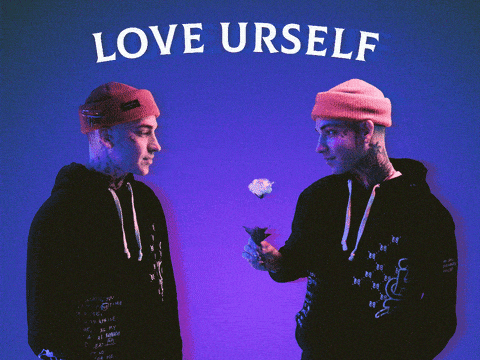 Sometimes you have to pick yourself. And sometimes that means hurting other people.
As an Enneagram 8 (a "rugged individualist"), I'm used to that. I don't WANT to hurt other people. I don't look forward to it. I don't like it, but as my friend Steph says, "Who do you love more?"
Still, hurting others = no bueno, and sometimes it makes you hate yourself. Well, that's a catch-22, now isn't it? Self-love leads to self-hate? Screw that noise.
But it doesn't have to, and it's entirely your fault if that's where you land.
THANKS FOR THE PEP TALK, LYNDA. YOU LURED US HERE BY DANGLING THE SELF-LOVE CARROT, AND NOW I FEEL LIKE SH*T. YOU SUCK.
Yeah. Sorry, not sorry. If I have learned anything over the years it's that when you take responsibility for yourself, your choices, your feelings, your thinkings (especially negative self-talk), you empower yourself to do right by you, which ultimately allows you to do right by others.
Here's how it works:
I HONESTLY HAVE NO IDEA WHAT I'M GOING TO WRITE NEXT. THIS SHOULD BE INTERESTING…
Say you're in a job you hate, or worse, a job that's okay. Because "okay" or "not bad" or even "good" are all tinged with beige and beige is a sad little color that robs you of joy in an insidious way. It makes you do things by rote, things you could do in your sleep, things that are safe and predictable (is anyone else getting hives?) and before you know it, you've been promoted to the tippy top and you are looking down on a steaming pile of meh that is your life. Congratulations, you're the king of Shit Mountain. You may as well jump. (Jeez, that took a macabre turn.) But it all started when you didn't want to hurt your friend's feelings who got you the job in the first place. Then you stayed because it felt like you had a purpose, then you stayed because you got busy, then you stayed because you turned 43 and like you're gonna pivot now, then you stayed because you're so deep into the beige that you actually think it's your color. It's not. (Oh, and the friend who got you the job quit years ago to run his own wildly successful mushroom coffee company. He's shocked you stayed so long, BTW.)
WHOA. DID YOU SEE WHAT JUST HAPPENED? THE ONLY PERSON WHO WAS HURT IN THE ABOVE SCENARIO WAS YOU.
And that is often the case. We cook up a story in our heads when self-love feels too scary (because sometimes the light of our amazing other life feels too bright and beautiful–probably because we don't think we deserve it) then we "protect" other people in the name of kindness, empathy, gratitude, bullish*t. (👈🏽 hey, how'd that get in there?)
Yes, sometimes you have to love yourself enough to bail.
Or break someone's heart.
Or tell an uncomfortable truth.
Or stand your ground.
Or, or, or…
But anything else is a lie and one well-meaning lie can cause more collateral damage than one owie truth. (Also, way to let other people find their own strength and resilience, control freak.)
So, who do you love more? How about everybody? Love yourself enough to choose you, thereby allowing others to choose their next right step.
WHEW. I THINK THAT WORKED.
I just might take my own advice.
Good luck out there, friends!
P.S. 43 is young.
Want these communiques to come directly to your inbox? Sign up here.
© LCRI